As an amateur programmer and an avid gamer, I've always found a profound connection between these two seemingly different worlds. Programming, in its simplest form, is the art of giving instructions to a computer to perform specific tasks. But for me, it's more than just lines of code; it's a way to unravel the magic behind the games that have enthralled me for years.
So, what exactly is programming?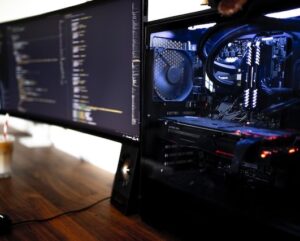 Imagine it as crafting a detailed strategy for a game, but instead of commanding characters on the screen, you're directing the actions of a computer. It's like being the mastermind behind the scenes, choreographing every move to make something incredible happen.
My journey into programming began with my love for gaming. I'd spend hours exploring virtual worlds, conquering epic quests, and battling formidable foes. But as I delved deeper into the gaming universe, I started wondering about the wizardry that made it all possible. How did developers create these breathtaking landscapes, intricate storylines, and lifelike characters? My curiosity led me down the path of programming.
Similarities
One of the most striking parallels I discovered was the similarity between programming logic and problem-solving in games. Gamers excel at finding solutions to in-game challenges, whether it's defeating a boss or deciphering complex puzzles. These problem-solving skills, honed through countless gaming hours, are remarkably transferable to programming.
Several Games Inspired Me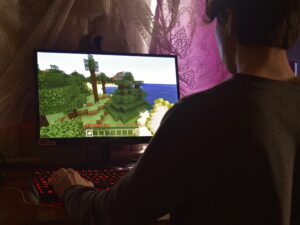 Games like Minecraft, with its open-world sandbox and endless possibilities, encouraged me to experiment with game development. I wanted to create my own virtual realms, just like the games I loved. As a gamer, I understood the importance of user experience, so I focused on making my creations immersive and engaging.
Popular games like "The Witcher 3" and "Grand Theft Auto V" exemplify the heavy reliance on programming techniques. The lifelike characters, dynamic environments, and intricate mechanics in these games are all products of meticulous coding. It's awe-inspiring to think that every dragon I've slain, every car I've stolen, and every quest I've completed owes its existence to lines of code.
My gaming mindset just transferred to my programming world
Just as I'd strategize and adapt in games, I applied the same mindset to coding. If a piece of code didn't work, I'd reevaluate my approach, tweak variables, and try again. The thrill of finally seeing a program run successfully reminded me of achieving a hard-fought victory in a game.
In conclusion, programming is the bridge that connects my passion for gaming with the world of technology. It's the key that unlocks the mysteries of the virtual realms I've come to love. As an amateur programmer, I've found that the thrill of coding mirrors the excitement of gaming. It's a journey filled with challenges, victories, and the satisfaction of seeing my creations come to life. So, to all my fellow gamers out there, consider taking the plunge into the world of programming. You might discover a whole new dimension to your gaming experience, one where you're not just a player but a creator of the games you love.